October 3, 2018 // // Opinion
The 5 Best Marketing and PR Podcasts in 2018
By Jess Docherty


We all know how important it is to keep up to date with the latest news and opinions within the industry. While creating our latest Marketing Trends report, we found increasingly people are turning to podcasts to stay informed. They are exceptional resources for inspiration and help us reflect and improve our own campaigns. It's also a great way to level up an otherwise uneventful commute!
With over 525,000 active shows and over 18.5 million episodes to choose from it can be tricky to know where to start. In this post, we share some of our favourite Marketing and PR podcasts to inspire you and hopefully(!) improve your campaigns.
Let's get started.
The Science of Social Media
By Buffer
Buffer's content is consistently high-quality, and the team focuses on community and authenticity. So it's no surprise they turned to podcasting as a way of connecting with their users. This weekly podcast is bitesize at an average of 15 mins so even the busiest person out there can squeeze in some time for social. They give updates on the latest and greatest news in social and often include case studies with clear metrics of success which makes it easy to reflect on how you can improve your own campaigns each week.
Conversations of inspiration
By Holly Tucker
If you're looking for a lift and a little inspiration this could be the one for you. Founder of Not On The High Street, Holly Tucker, host a new founder each week and chats through the highs and lows of building their business and shares plenty of advice and inspiration along the way. Previous episodes have included innovators like Ella Mills (Deliciously Ella, Jo Malone, Julie Deane of The Cambridge Satchel Company).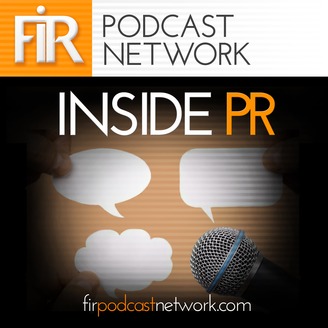 Inside PR
by Gini Dietrich, Joseph Thornley & Martin Waxman
This weekly PR-focused podcast explores the state of Public Relations. It covers a range of topics and entry points so it's great if you're just getting started. Each week they interview a new guest on the show and regularly discuss successful and controversial campaigns. If you want to keep up with current events and crisis communications, this is the one for you.
Copyblogger FM
By Sonia Simone
Copyblogger FM is crammed with useful tools and how-tos. What sets this podcast apart is that the host really tries to break down advice into actionable steps. It's a weekly podcast that covers everything from content marketing to copywriting, to email marketing and much more. If you're looking for a regular way to improve your all-round marketing efforts, this is a great place to start.
Social Minds
By Social Chain
Started in August 2018, this British podcast is a recent addition to my favourite list. The team invites guests to take a deep dive into the latest social media headlines. A key theme of this podcast that I find particularly interesting is how social and an always online world is impacting human behaviours. So if you're keen to learn more about how social media is changing the way users and brands interact on social, then give this a listen.
Share your favourite Marketing and PR Podcasts
Do you have a podcast you enjoy? Or maybe you run a great marketing or PR podcast? Let us know, we're always looking for new content.